I know I know usually I don't participate in internet games but this seemed cute. I got tagged by Sabrina over at
"My Little Slice Of Pie"
. She is one of my friends from Sewingmamas and I really should add her to my list of blogs I visit. Anyways here are the rules.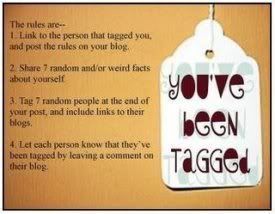 Seven random things about me.
1) My kids love to get sick over the Thanksgiving holiday. In a strange way this helps remind me of one of the biggest things I have to be thankful for. That is that there is nothing seriously wrong with either of them just colds, ear infections, stomach bugs, and once an infected finger.
2)I'm currently obsessed with the Twilight books.
3) If I don't make something at least every few days I get really tense. Something about the process of putting things together relaxes me.
4) I use my crock pot a few times a week.
5) I wear a size 11 in ladies shoes.
6) I've been married for seven years.
7) I do yoga.
Now to tag seven people. Well at least some people several of the blogs I would pick have already been done and I really don't read a lot of personal blogs. Also just so ya'll know I won't be bothered at all if you don't play along I just figured I would for once.
1) Aaron at http://blog.hact.net/
2) Chrissey who's trying to blog daily so this will give her something to do http://baby.hact.net/
3) Frank at http://franknotes.wordpress.com/
4) Sherry at http://nelsonbabyblog.blogspot.com/
5) Erin at http://rutatasteofrue.blogspot.com/
6)Angela at http://angelastevebecazoe.blogspot.com/
7) Sorry not doing seven. I would have done thehandmade dress but she was already tagged or Jen but she has a brand new baby.